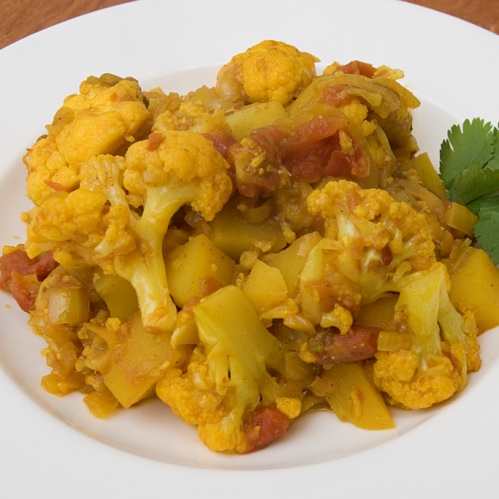 I've come up with a tasty dish that has quickly become a favorite in our house. This is my own spin on a classic Indian dish. Aloo Gobi is traditionally potatoes and cauliflower, but I've kicked it up a notch and added in some savory lamb sausages! This dish is not very photogenic, but it's incredibly delicious!
As with ALL the ingredients in my recipes, I must always stress the importance of quality. Whenever I choose sausages, I make sure they are from good quality animals, and there are no dangerous and unnecessary additives. The ones I used for this recipe don't even have any oil to worry about (many sausages use canola or soybean oil).
This dish is surprisingly easy and fast!
Ingredients:
6-8 medium potatoes
1 head cauliflower
4 lamb sausage – cooked and sliced
6 leafs kale -chopped (I've used collards or chard, too)
1 onion – diced
handful currants
1 tbsp grated ginger
1/2 tsp cumin
1/2 tsp turmeric
1/2 tsp gara masala
1.5 tsp coriander
1 tbsp lemon juice
1 tsp unrefined salt
1/4 tsp paprika
1 cup coconut or almond milk
Directions:
Cooked the sausages, slice them into pieces and set aside.
Cut the potatoes and cauliflower into 1 inch pieces and toss into a baking dish. Drizzle with coconut oil and bake at 400 for 50 min (stir occasionally).
Meanwhile, in a large fry pan, heat some coconut oil and fry onions for a few minutes.
Add the ginger and stir.
Add all spices and stir well.
Mix in the chopped kale and cook for a few more minutes.
Toss in the currants.
Add slices of sausages.
Stir in the almond milk.
Dump in the potatoes and cauliflower and mix thoroughly.
Splash with lemon juice, mix well and Serve with quinoa or rice.